Bladder HVAC Expansion Tanks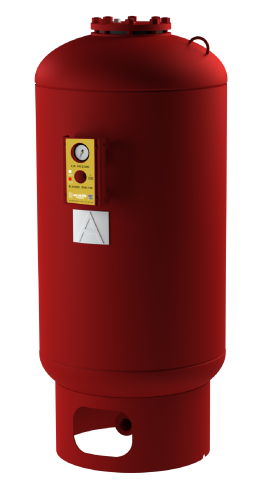 Wessels type NLA removable bladder expansion tanks are designed for use in hydronic heating/cooling systems to absorb the expansion force resulting from the changes in temperature of the heating/cooling fluid. They've been intelligently designed to include a WessView® bladder integrity monitor and integrated air-side pressure gauge.
As the system fluid expands, it is forced into the precharged tank to the maximum system pressure. The precharged air cushion then forces the fluid back into the system as it contracts. The extra heavy butyl bladder keeps the fluid permanently isolated from the precharged air cushion. This arrangement eliminates water logging and absorption of air into the system. It also helps prevent air bound terminal units, excessive corrosion, inefficient balancing and pump cavitation over the life of the system.
The large acceptance volume allows maximum storage and reduction of up to 80% in tank size. Energy consumption is reduced by eliminating unnecessary system water volume. For thermal installations use Wessels type TXA or TTA for potable hot water applications.

Were you looking for a non-replaceable bladder tank?
Divider
NLA Series (ASME)
The NLA is the industry's broadest line of bladder style tanks with a range of smart tank features that include:
Built in accordance with the ASME boiler and pressure vessel code
WessView® Bladder Integrity Monitor
Air-side pressure gauge
Heavy-duty replaceable butyl bladder
Sizes range from 10 to 4,000 gallons
Working pressures of 125 PSI (std), 200 and 250 PSI
| | |
| --- | --- |
| NLA 35-800L | NLA 35-800L HP (High Pressure) |
| | |
| --- | --- |
| NLA 1000-15000 | NLA 1000-15000 HP (High Pressure) |
Divider
NVA Series (ASME)
Built in accordance with the ASME boiler and pressure vessel code
Bottom system connection design
Heavy-duty replaceable butyl bladder
Sizes range from 20 to 4,000 gallons
Working pressures of 125 PSI (std), 200 and 250 PSI
| | |
| --- | --- |
| NVA 85-800L | NVA 1000-15000 |
Divider
NLAP Series (ASME)

NLAP Expansion Bladder Tanks:
Built in accordance with the ASME boiler and pressure vessel code
Top system connection design
Heavy-duty replaceable butyl bladder
Sizes range from 11 to 290 gallons

Divider
NL Series (Non-ASME)

NL Expansion Bladder Tanks:
Heavy-duty replaceable butyl bladder
Sizes range from 2 to 132 gallons