Employee Spotlight for August 2017
One of the smiling faces on our team is of Leonard Bush. Leonard is one of our Custom Quotes and Inside Sales Representatives and has been with the company for nearly 8 years. His hobbies include working out, road biking, playing music and grilling. In his spare time, Leonard enjoys craft beer, traveling and sports. He is a fan of Ohio State Football and roots for the Cincinnati Bengals and the Cleveland Cavs. When he was in college Leonard actually played against Lebron James in the Ohio State Basketball Championship and his team won!
Leonard fast facts: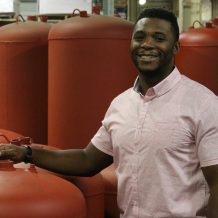 Likes: Wessels tanks, sleep and chocolate
Dislikes: things that are not Wessels tanks, being hot and hospitals.
Hobbies: grilling, playing pool and working out
Nicknames: L.B., Len, Lenny and Bush