Cooling Down Campus Costs with Wessels Company
CASE STUDY: Purdue University
COOLING DOWN CAMPUS COSTS
How Wessels heat exchangers cooled energy costs at a major American University
West Lafayette, IN – Headquartered near Indianapolis, the AHRI certified plate and frame heat exchanger manufacturer Wessels Company is very familiar with Purdue University. In fact, Wessels has employed many graduates from the famous engineering school over the years, including their current engineering manager. So, when Purdue University came to the company in need of large heat exchangers to improve its campus chiller plant performance, Wessels was ready to tackle the challenge head-on.
An American Institution
Purdue University is the institute of science, technology and agriculture in West Lafayette, Indiana, that houses nearly 30,000 students and is known for its highly esteemed engineering program. This penchant for engineering excellence is evident in the design of the campus, which has over 150 buildings and is self-sufficient in all its HVAC needs. Some of those HVAC needs are met with: 12 chillers, 4 steam boilers, 2 turbine generators, and a cooling, closed water circulation loop that distributes 45°F chilled water out to the campus.
However, faced with growing demand for year-round chilled water due to campus growth and an inefficient existing system, the University embarked on a five-year plan to improve the system. To meet the new demands and save money and energy with a more efficient system, Purdue turned to Wessels Company.
Engineering Efficiency
To meet the requirements of improved chiller efficiency, Purdue University installed two of Wessels Company's enormous WP123 plate and frame heat exchangers. These heat exchangers were installed in the free cooling mode, which means when the outside temperature is low enough, chilled water demands can be satisfied using just the heat exchanger and a cooling tower. This allows the chiller station's expensive compressors to be shut down, which in turn leads to tremendous energy savings.
"Because of the local climate, Purdue was an excellent candidate for heat exchanger-based free cooling." – Gary Trumpfheller, Heat Transfer Business Unit Manager at Wessels Company
Purdue was an excellent candidate for this kind of free cooling because of the year-round demand for chilled water and the local climate. Free cooling heat exchangers, also known as economizers, are now required to meet ASHRAE STANDARD 90.1 2010 Energy Standard for Buildings I-P Edition. This standard outlines areas of the country where chillers used for comfort cooling or data centers must have economizers included. It also specifies that heat exchangers must be AHRI Certified to Standard 400 for liquid to liquid heat exchangers.
Energy Savings Mean Cost Savings
The estimated annual savings for the Purdue project, and other projects of its size, are approximately $500,000. Wessels Company prides itself on being able is to provide sustainable energy saving solutions that save money and help make a greener HVAC world. In addition to plate and frame, shell and tube, and brazed plate heat exchangers, Wessels has over 100 years of manufacturing experience providing expansion tanks, filtration vessels, media pots, glycol packages, separators, and more.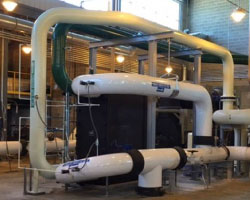 For more information, visit wesselscompany.com