Downloading Drawings: BIM vs CAD
Wessels Company makes it easy to download a huge catalog of BIM and CAD files, which can be imported into software to generate product drawings and 3D models, but what's the difference between Revit (.RFA), .STEP and .SAT files?


In the case of Revit, .RFA's are Building Information Models (BIM) specifically compatible with Autodesk's Revit software package. Revit is used by architects, engineers, and contractors to collaboratively design buildings using a shared resource pipeline from start to finish.
Computer Aided Design (CAD) files like .STEP and .SAT, on the other hand, are compatible with many more design programs. Wessels engineers primarily use Solidworks CAD software to design products. These .STEP and .SAT CAD files can be imported into other software packages such as AutoCAD, Inventor, Civil 3D and MicroStation, so they are commonly used to exchange 3D data across multiple software platforms.
Whether you use BIM or CAD files, it's easy to import Wessels product files into your computer program of choice. From there, you can generate drawings, simulations, animations and more for use to build your system.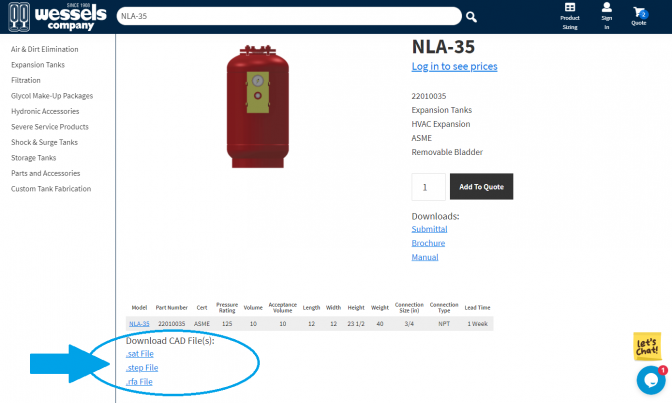 Wessels Company has expanded its offering of product BIM and CAD files on the new e-commerce website WesselsVessels.com. Simply navigate to a specific product and click the link of the desired file format at the bottom, to begin downloading.
Something missing? Contact [email protected] for help finding a file or to request downloading a family of files.