Wessels Company congratulates winners of local award
GREENWOOD, Ind. — Wessels Company is proud to announce one of our interns has received the Central Nine Career Center Achievement Award for Welding Technology for 2018.
Every year, a student who shows great achievement in their chosen field is eligible for the award, which is designated with a plaque.
This year, James Ward, a Wessels Company employee and Central Nine Career Center student, was awarded the honor.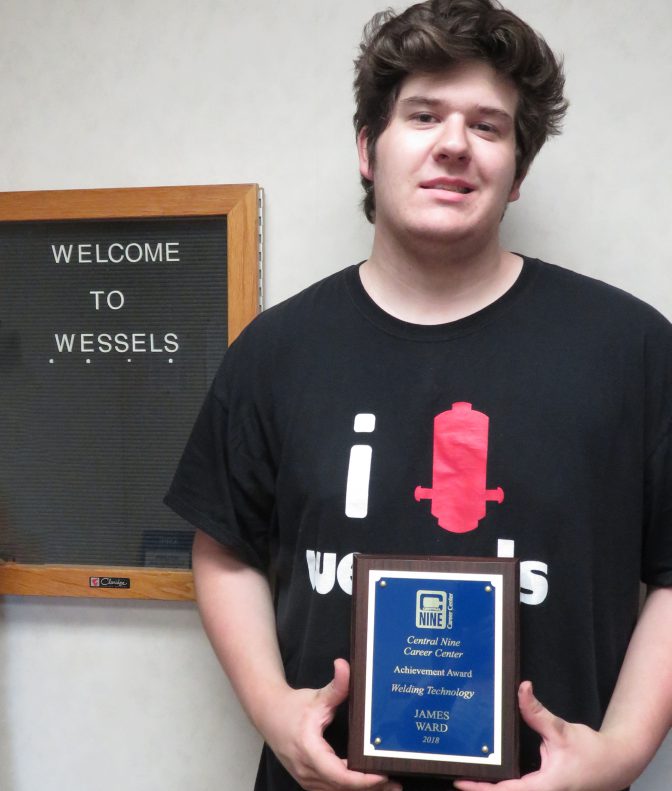 "James has been one of the outstanding C Nine individuals that has come to Wessels, his attendance has been great and has had no issues learning. It was no surprise from me that he won this award," said James' manager Bob Rust.
James has been a welder-in-training with Wessels for eight months.
"James has the skill set the demeanor and the personal drive to be very successful in life. I hope James has opportunity to share his experience at Wessels with other students and people in the community and encourage others to be a successful," said Jason Wiley of Central Nine Career Center.
Wessels Company is lucky enough to have two recipients of the award, the 1974 winner, William Dick and the 2018 winner, James Ward.
William has been a welder with Wessels for over four years.
"William is our resident TIG expert that came to us after his retirement from another shop," Rust said. "He has taught some of our employees how to TIG weld and is our go to guy right now for TIG welding, and special projects in the shop. He has been a huge asset to Wessels in training, and building vessels."
"I enjoy working with both of them, and look forward to many more years," Rust added.
Wessels Company President, James Fuller was on hand to congratulate both winners on their achievement and to thank them for their hard work.

Above: Central Nine Career Center Achievement Award winners William Dick (left) and James Ward (right) are congratulated by Wessels Company President, James Fuller (center).